Project to develop Information and Communication Technology(ICT) for aquaculture
The purpose of this project is to promote aquaculture to be "growing and sustainable industry" by the development new aquaculture operation system with ICT and advanced photonics technology for improvement efficiency of productivity and quality of production, and the detection of change of environment in farm.
Coho salmon can survive in the water under 21˚C temperature, so the shipment of such fresh product must finish by end of July due to upper temperature of survive in Japanese Coho salmon farm. We started to demonstrate Coho salmon farming from November 2017 with ICT for monitoring environment in cage, growth of farming fish, prevention to fish collision against ceiling net and the newly designed cage to be possible sink in deep.
Consequently, we proved to be able to expand farming period to mid-August, expected high demand when surface temperature exceed 21Ž with same quality as usual production.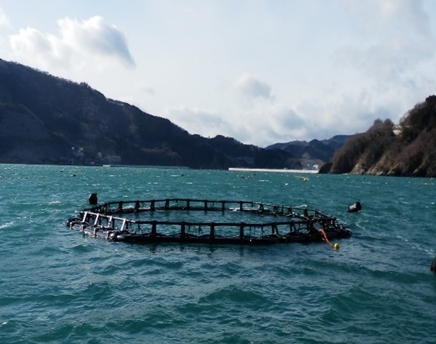 @